About Us
We are Small Shop Owned and operated buy hams.
I order to keep our product cost down we are un-able to take or process Phone orders. To process phone orders 24-7 requires minimum of 8 full time employees.
Our secure webstore is able to take and process orders 24 -7. with complete shipping cost to any location on the planet that U.S. Postal Service will deliver to.
We gladly support our military, and will ship to APO/FPO/DPO addresses via U.S. Postal Service.

Our web store will process your order quickly, and provides updates with shipping and payment information. You may log in to your account and view history and order status.We use Paypal the most reliable payment processor, you may pay with any credit card or e-check orders with e-check will not ship until the e-check is cleared. We also will process your order with your personal check or money orders.

Netfirms Green Certificate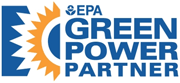 Netfirms, an EPA Green Power Partner, certifies that bluestarantennas.com is powered by 100% wind energy.
That means the servers, data centers and offices supporting bluestarantennas.com are powered by renewable energy.
We have added many new items
We will be adding more.

Please Help us out if you encounter any page errors Please send the "error message" to with the contact us link.

We will be having parts for the builder
Some of our parts will adapt to other makes for repair or replacement
We will offer some metals for the builder, coming in the future.